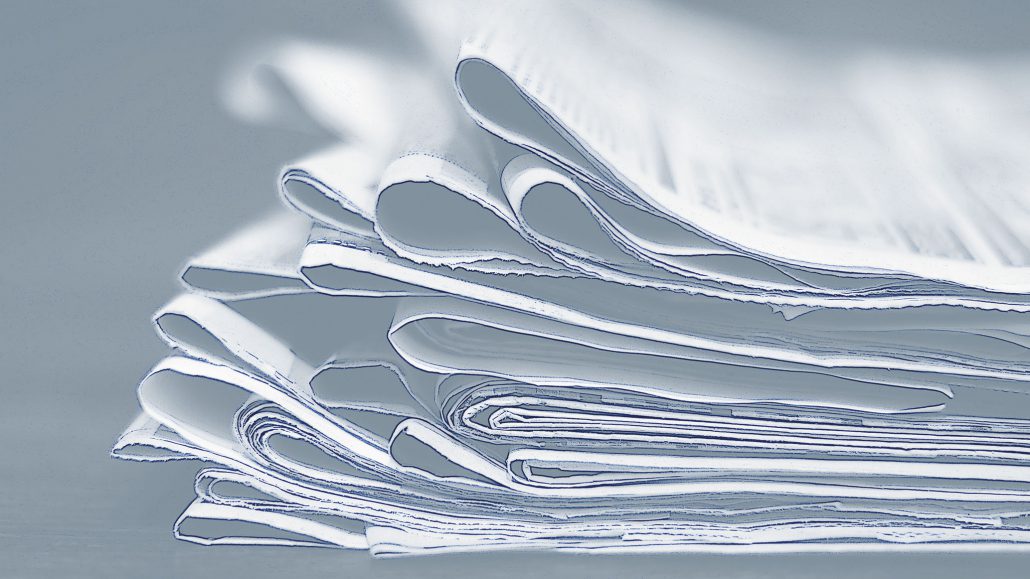 Ønsker du å få tilsendt medieoppsummeringane våre direkte på epost? Send ein epost til afa(a)eos-utvalget.no
---
---
Intervju med ny e-sjef om nye e-lov (som trådte i kraft 1. Januar) og utsetjinga av kapitla som handlar om Tilrettelagt innhenting
(Forsvarets forum) Han venter på avgjørelsen om verktøyene i det digitale grenseforsvaret
---
Intervju med avtroppande e-sjef
(NOF.no/Befalsbladet) 20 spørsmål til avtroppende E-sjef
(Os og Fusaposten) Om å vera etterretningssjef: — Eit press, eit trykk og eit ansvar folk flest ikkje kan tenkja seg
---
Om tryggleiksklarering
(Dagens Næringsliv) Jon Nicolaisen slutter i Norges Bank etter avslag om sikkerhetsklarering
(Dagens Næringsliv – innlegg av Erik Nyblom i NSM) Er utenlandske etterretningstjenester amatører?
Stortingsrepresentant Ulf Leirstein (sjølvstendig – eks-Frp) har fått svar på to skriftlege spørsmål om tryggleiksklarering.
Eit frå justisministeren om «Anser statsråden at regjeringen har fulgt opp de tilbakemeldinger og lovnader de selv kom med i forbindelse med Stortingets behandling av den særskilte meldingen fra EOS-utvalget om ulik praksis for sikkerhetsklarering av personer med tilknytning til andre stater, basert på den praksis vi har sett omtalt i media i den senere tid?»
Og eit frå forsvarsministeren om «Vil statsråden bidra til at vernepliktige førstegangstjenestegjørende sikres at de ikke dimitteres permanent når de har levert klagesak på vedtak fra FSA om «ikke klarert», slik at klagesaker gis oppsettende virkning?»
---
Fersk interessant britisk dom
(NGOen Privacy International – pressemelding) Victory at the High Court against the government's use of 'general warrants'
"In a major victory for the rule of law, the UK High Court has ruled that the security and intelligence services can no longer rely on 'general warrants', which until today could be used to interfere with property, including computers, of thousands or even millions of people based on a single warrant."
---
USA-kaos og krav om at Trump må ga av eller bli avsett
(NRK) Fire døde da Trump-tilhengere stormet Kongressen – presidentens tale fordømmes
En til døde dagen etterpå – (CNN) US Capitol Police confirm death of officer after pro-Trump riot
(Washington Post) Calls intensify to remove Trump from office even as he acknowledges "a new administration"
(New York Times) Capitol Attack Leads Democrats to Demand That Trump Leave Office
(New York Times) Justice Dept. Open to Pursuing Charges Against Trump in Inciting Riot
(New York Times) Trump Is Said to Have Discussed Pardoning Himself
(ITV News – UK – oppsiktsvekkande videobilete frå reportar som var midt i kaoset) The storming of Congress – an eyewitness account of how a mob shocked a nation
(NRK) Stormingen av Kongressen: Flere høyreekstreme aktivister identifisert
(Washington Post) "Let's have trial by combat": How Trump and allies egged on the violent scenes Wednesday
(ABC News – USA) FBI posts photo of person who placed suspected pipe bombs outside DNC, RNC
(Guardian – kommentar) Call it what it was: a coup attempt
(Yougov – meiningsmålingsinstitutt) One in five voters – including 45% of Republicans – approve of the storming of the Capitol building
(Washington Post – leiar) Trump caused the assault on the Captiol. He must be removed.
(Assoicated Press) Protesters Swarm Statehouses Across US; Some Evacuated
(VG) Da Black Lives Matter-demonstrasjonene raste i USA, voktet nasjonalgarden den amerikanske hovedstaden. Nå spør flere seg hvor politiet var da Trump-tilhengere stormet kongressen.
(Washington Post) How the US Capitol Police were overrun in a "monumental" security failure
(Washington Post) Pentagon placed limits on DC Guard ahead of pro-Trump protests due to narrow mission
(Associated Press) Capitol Police rejected offers of federal help to quell mob
(Military Times) This is why the National Guard didn't respond to the attack on the Capitol
(BT – kommentar) Angrepet på Kongressen passar godt inn i USAs rasistiske historie.
(VG – kommentar) Slik ender de mørkeste fire årene i det amerikanske demokratiets historie: I blod, kaos og lovløshet, initiert av den sittende presidenten.
(New York Times – kommentar) The Far Right Told Us What It Had Planned. We Didn't Listen.
(Guardian) Biden decries Trump mob: 'Don't call them protesters. They were domestic terrorists'
(BBC) World leaders react to 'horrifying' scenes in Washington
(Guardian – kommentar) What happened in Washington DC is happening around the world
(VGTV) Her blir politiet jaget av sinte demonstranter
(Reuters) U.S. transport, education secretaries quit in staff exodus after Capitol violence
(Buzzfeed news) The Mob At The Capitol May Have Put National Security Secrets At Risk. At least one laptop believed to contain sensitive information was among the items stolen from Congress.
(Intelnews – analyse) US Capitol attack marks the beginning of a prolonged period of insurrection
(Aftenposten – kronikk av redaktøren i Faktisk.no) Dette er konsekvensene av falske nyheter
(Faktisk.no) Konspirasjonsteorier førte til dødelige opptøyer
Valet blei etter åtaket på Kongressen godkjent.Og etter åtaket på Kongressen lova også Trump ei fredeleg maktovertaking, men gjentok dei falske påstandane om valjuks.
Dagen derpå igjen var han litt meir audmjuk.
(Guardian) Trump calls for end to violence he incited as pressure on White House mounts
Trump er også utestengt frå fleire sosiale medium
(Guardian) 'Four years of propaganda': Trump social media bans come too late, experts say
---
Saker frå før åtaket på Kongressen
(BBC) Biden election: Mike Pence 'welcomes' senators' bid to derail result
(Washington Post) 'I just want to find 11,780 votes': In extraordinary hour-long call, Trump pressures Georgia secretary of state to recalculate the vote in his favor
(Washington Post – kronikk) All 10 living former defense secretaries: Involving the military in election disputes would cross into dangerous territory
(Aftenposten – kommentar av Christina Pletten) Militærkupp i USA var utenkelig. Helt til nå.
(NRK – kommentar av Anders Magnus) Demokratiet i USA er i fare. Spesielt på grunn av innsatsen til én mann. Og internett.
(Atlantic) Trump Could Still Start a Last-Ditch War With Iran. A final grand distraction before the president is forced to relinquish his office is a real danger that deserves serious attention.
---
Det store dataåtaket på USA
(New York Times) As Understanding of Russian Hacking Grows, So Does Alarm
(New York Times) Widely Used Software Company May Be Entry Point for Huge U.S. Hacking
(CBS News) Secretary of State Mike Pompeo has blamed Russia for a massive cyberattack, saying «it's the case that now we can say pretty clearly that it was the Russians that engaged in this activity.» However, President Trump contradicted Pompeo, writing on Twitter that China «may» have been responsible for the attack.
(Reuters) Russian President Vladimir Putin said the foreign intelligence service was exceptionally important for protecting the country, in comments made soon after it was accused by some of being behind a major hack on U.S. government departments.
(Aftenposten) Trump nekter å kritisere Putin for hackerangrepet. Her er syv andre ganger han valgte å ta Russlands parti.
(Reuters) Trump must blame Russia for cyber attack on U.S., Biden says
(New York Times) Hacking 'Likely' Came From Russia, U.S. Says in Belated Statement
(Guardian – kronikk av Bruce Schneier) The US has suffered a massive cyberbreach. It's hard to overstate how bad it is
(Reuters) Congress, experts worry about potential spy agency (NSA and Cyber Command) reorganization amid hack response
Relevante saker:
(Digi) Norges største forhandler av hackede Solarwinds fjernet kundelisten fra internett. På den sto både politiet og Statistisk sentralbyrå
(Forsvarets Forum) Forsvaret kan ikke utelukke at sivile underleverandører har brukt hacket programvare
(NTB) Cyberangrep mot riksdagen i Finland – etterforskes som spionasje
---
FE-skandalen i Danmark
(Danmarks Radio) Nick Hækkerup har nedsat den kommission, der skal undersøge sagen om hård kritik af Forsvarets Efterretningstjeneste
(Jyllands-Posten) Eksperter kalder FE-kommission ganske usædvanlig
Relevant sak:
(Jyllands-Posten) FE vil opruste hemmelig lyttestation i Nordjylland
---
Ellevill sak om Navalny og russisk etterretning
(CNN) Russian opposition leader Alexey Navalny dupes spy into revealing how he was poisoned
(Bellingcat) «If it Hadn't Been for the Prompt Work of the Medics»: FSB Officer Inadvertently Confesses Murder Plot to Navalny
---
Assange vann i retten – i fyrste omgang iallfall
(BBC) Julian Assange: Wikileaks founder extradition to US blocked by UK judge
(VG) Julian Assange (49) blir ikke utlevert til USA, på grunn av sin svake helse. Det har en britisk domstol bestemt i dag. Norsk PEN mener at kjennelsen ikke er noen seier for ytringsfriheten.
(NTB) Julian Assange blir ikke løslatt mot kausjon
(Aftenposten – analyse) Assanges støttespillere var pessimistiske. Så fant dommeren en gyllen utvei i en kinkig sak.
---
Kinas åtak på Hongkongs stadig minkande fridom
(Guardian) Dozens of Hong Kong pro-democracy figures arrested in sweeping crackdown
(Washington Post – leiar) the US and EU must respond forcefully to China's destruction of liberty in Hong Kong
---
Interessant frå Riksadvokaten
(Rett24) Riksadvokaten beordrer brems i politiets mobilgjennomganger
---
Oppsiktsvekkande sak om Kviterusslands KGB
(EU Observer) Lukashenko plotted murders in Germany
---
Interessant sak i Rett24
(Rett24) Får bruke ulovlig mobilvideo som hærverkbevis
---
PST i Dagens Næringsliv om spionasje
(DN) PST hudfletter universitetene: «Fullstendig blåøyde og veldig, veldig naive» – Slik verver utenlandsk etterretning spioner i Norge
(DN – innlegg) Skal hver bedrift og etat virkelig være et «mini-PST»?
---
Særs lesverdig kommentar
(Filter Nyheter – kommentar) Harald S. Klungtveit: «Det var ikke lett å skille Manshaus fra alle de andre norske rasistene»
---
Interessant synsing om Russland i 2021
(Moscow Times) Foreign Policy Experts Map Russia's Plans for 2021
---
Korona-relaterte EOS-nyhende
(VG) Nytt forslag om portforbud-lov: Kan vedtas for 21 dager
(BBC) Covid: How the war on the virus attacked freedom in Asia
(The Register) Singapore changes the rules and will now use COVID-19 contact-tracing app data in criminal cases
(Sveriges Radio) Restriktionsmotståndare oroar tysk underrättelsetjänst
(South China Morning Post) Coronavirus: WHO chief 'very disappointed' China hasn't granted entry to investigation team
---
Om Frode Berg-saka
(Dag og Tid – kommentar av Morten Strøksnes) Frode Berg har fått mykje velfortent sympati, trass i at historia hans ikkje heng saman.
(NRK) Da bestefar havna i russisk fengsel
---
Andre saker:
(BBC) Al Jazeera journalists 'hacked via NSO Group spyware'
(Guardian) Revealed: how abusive texts led to discovery of hacking of Al Jazeera
(Reuters) Microsoft, Google, Cisco, Dell join legal battle against hacking company NSO
---
(Aftenposten) US Navy: Vi samarbeider med Forsvarsdepartementet om å bruke Evenes flystasjon
(BBC) Facial recognition identifies people wearing masks
(Rett 24 – innlegg av NJ-advokat) Politiets utvidede fullmakter (om tilgang til lagring av IP-adresser som abonnenter er tildelt) går på bekostning av anonyme kilders mulighet til å kommunisere fritt med journalister.
(TV2 og NTB) Fra 1. januar har Norge vært en del av FNs Sikkerhetsråd. Ifølge NRK skal Norge lede to av FNs 14 sanksjonskomiteer. Arbeidet går ut på å straffe Nord-Korea, IS og Al Qaida.
(Telegraph) Children can be used as undercover spies to report on parents, covert intelligence bill reveals
---
(Foreign Policy) Tech Giants Are Giving China a Vital Edge in Espionage
(Foreign Policy) China Used Stolen Data to Expose CIA Operatives in Africa and Europe
(Foreign Policy) Beijing Ransacked Data as U.S. Sources Went Dark in China
---
(Associated Press) Gulf Arab leaders sign declaration with Qatar to ease rift
(NRK – kronikk) USA dirigerer mer og mer av Norges forsvars- og sikkerhetspolitikk.
(CNN) Senate votes to override Trump's veto on defense bill
(New York Times) A Far-Right Terrorism Suspect With a Refugee Disguise: The Tale of Franco A.
(Digi) Microsoft mener 2021 blir året passord dør ut: – Det kommer aldri til å skje, sier norsk ekspert
(NTB) Nesten to måneder etter at konflikten oppsto, forteller innbyggerne om store ødeleggelser og rene henrettelser nord i Etiopia.
(VG) Opposisjonen reagerer: Forsvarets leverandører kan bli angrepsmål i krig
(NTB) Boligene til kongresslederne Nancy Pelosi (Demokratene) og Mitch McConnell (Republikanerne) ble begge utsatt for hærverk i nyttårshelgen.
(The Hill – kronikk av leiaren i kontrollorganet PCLOB) How the US and Europe quietly share data to prevent terrorist attacks
(NRK) I oktober ble en mann fra Skien arrestert, siktet for å stå bak et av 80-tallets verste terrorangrep​. Han kom til Norge som asylsøker i 1991, og har bodd i Skien. Kan dette være mannen som skjøt?​ Og får fransk politi endelig svar?​
---
(Al Jazeera) US carrier to stay in Gulf due to Iranian 'threats': Pentagon
(Guardian) Iran to enrich uranium to up to 20% purity, UN nuclear watchdog says
(Reuters) EU says it will redouble efforts to save Iran nuclear deal
---
(BBC) Germany and Finland bring home women from Islamic State camps
(Aftenposten) Amerikanske medier: Trump diskuterte mulig militærkupp med nylig benådet eksgeneral
(NSA – pressemelding) NSA Year in Review
(BBC) Paul Whelan: Grim life of US 'spy' in Russian labour camp
(Digi) Ny hackemetode: Brukte Wifi-signaler til å hente ut data fra PC som ikke har Wifi-utstyr
(Bloomberg) FBI Says White Supremacists Plotted Attack on U.S. Power Grid
(Brookings – tenketank) War powers in the era of Joe Biden and Lloyd Austin
(The Intercept) The CIA's Afghan Death Squads
(Deutsche Welle) Germany: Synagogue attacker sentenced to life in prison
(Radio New Zealand) Spy partners' focus dictated lack of Far Right intelligence, GCSB boss says
(Associated Press) Trump pardons security contractors in deadly Iraq shooting
(Statewatch) EU: New counter-terror plans and more powers for Europol put rights at risk
(Guardian) Putin signs bill granting lifetime immunity to former Russian presidents
(New York Times) Targeted Killings Are Terrorizing Afghans. And No One Is Claiming Them.
(Electrospaces) The report of a Swiss investigation into the case of Crypto AG
(Aftenposten) Jihadister halshugget Leilawa Abdullahs venninne og sendte henne filmen. Det som skjer i 28-åringens hjemby, viser hvorfor IS vokser igjen.
(BBC) Niger's prime minister says 100 people are now known to have been killed in Saturday's attacks by suspected jihadists on two villages.
(Digi) Norske «Hot Line» var starten på et spektakulært sambandssystem som Nato brukte under den kalde krigen
(Sveriges Radio) Man döms efter att ha spridit IS-propaganda på nätet
(Intelnews) George Blake, arguably the most prolific Soviet spy of the Cold War, dies at 98
(Cipher Brief – kommentar av eks CIA-topp) Biden's National Security Test
(CNN) UK says its aircraft carrier strike group is ready to deploy. China's already watching
(New York Times) Isaac Shoshan, Israeli Spy Who Posed as an Arab, Is Dead at 96
(SVT) Tio personer kommer att åtalas för terrorattackerna i Bryssel den 22 mars 2016, uppger belgiska myndigheter. Bland de åtalade finns Osama Krayem från Malmö.
(New York Times) Inside the C.I.A., She Became a Spy for Planet Earth
(C4ISRNET) How the Space Force foiled an Iranian missile attack with a critical early warning
---
(Guardian) North Korea: Kim Jong-un says economic plan a near-total failure at rare political meeting
(Al Jazeera) Kim says N Korea to take military capabilities to 'higher level'
---
(NVE – pressemelding) NVE har tatt initiativ til at det utvikles en cyberfysisk lab på NTNU og at kraftbransjen utvikler ny kompetanse på sikkerhet i industrikontrollsystemer og maskinvare.
(Sjøfartsdirektoratet – pressemelding) Anbefaler nasjonalt responssenter for maritim digital sikkerhet
---
Nyheiter frå Stortinget:
Utanriksminister Ine Eriksen Søreide (H) har svart på stortingsrepresentant Anniken Huitfeldt (Ap) sitt spørsmål om «Hva har utenriksministeren så langt gjort og hva vil hun foreta seg i lys av Dagbladets avsløringer om saudiarabiske myndigheters opptreden i Norge?»
SVs Kari Elisabeth Kaski har spurt justisministeren om:
«Det er en fare for at angrepet på Kongressen i USA vil være til videre inspirasjon for høyreekstreme miljøer verden over. I Norge slår PSTs trusselvurdering for 2020 fast at trusselen fra høyreekstremisme i Norge utviklet seg i negativ retning i løpet av 2019, og at høyreekstreme i økende grad viser vilje til å bruke terror for å nå sine mål.» Hva gjør regjeringen for å bekjempe framveksten av høyreradikalisme og -ekstremisme i Norge?
Svaret er ikkje klart enno.
---
Ønsker du å få tilsendt medieoppsummeringane våre direkte på epost? Send ein epost til afa(a)eos-utvalget.no